As a young boy of about 10, Georges Taconet posed for a family photo with both his sisters, Marie Thérèse and Germaine. He is sitting just beneath his grandparents on his mother's side, Henri and Adrienne Frère, in their Rouen house (Normandy). Around 1900.




An elegant young man, Georges Taconet sat for a photo in the studio of Le Havre's most renowned photographer Raoul Autin. He started composing his first piano pieces around those years Circa 1910





Before he was called up in 1914, Georges Taconet had to serve 3 years in the army as a private in the 129th infantry regiment based in Le Havre. He played bass drum in the army's band. 1912





Georges Taconet poses for Le Havre's photographer shortly before his marriage in 1917. He is wearing the white armband of the stretcher-bearers and the Croix de Guerre - a decoration bestowed on WWI soldiers. In the war years he was to meet and befriend another composer from Le Havre, André Caplet, his senior by eleven years. (See Also Letters from the front)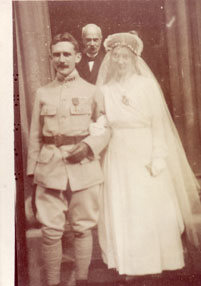 As the war dragged on and its end was uncertain, Georges Taconet took advantage of a period of leave to marry Yvonne Ducrocq on 17 october 1917 . He had met his wife to be in Le Havre a few years before and had been engaged to her for a couple of years. The wedding ceremony was announced and commented upon the following day in the local daily " Le Havre Eclair " in which the speech made by the deputy-mayor Monsieur Badoureau can be read.